Many are taught that they are to pray to the Father in the name of Jesus. And then they wonder why their prayers are not heard or answered. Mainstream Christianity teaches that in order for our prayers to be heard, we must pray to the Father in the name of Jesus. This is a false teaching, and it is not supported by a single unadulterated scripture.
The trinitarian new age gospel theology ignores the fact that the name of the Father is Yahweh. How then can one pray to Yahweh in the name of Jesus. One need not even be Spirit filled to understand the insanity of this fabricated doctrine of deceit, that has filled the minds of millions of trusting souls.
The titles or Lord, and lord, occurs in almost 7,000 verses in both the Old and New Testaments. This title when used to address men is appropriate, but it represents a criminal act to call Yahweh, by the title of Lord.
Can we call upon the name of the Lord? In other words, can we use the title Lord, instead of (the transliteration of H3068 יְהֹוָה YHWH) His actual name, which when spoken in English is Yahweh?
We are commanded to call upon the name of Yahweh (Gen 4:26, 1 Kings 18:24, 1 Chron 16:8, Psa 99:6, 105:1, 145:3).
Psa 54:2 Listen to my prayer Yahweh, and hear the words of my mouth
Do not be anxious about anything; but in every thing with prayer and supplication with thanksgiving let your requests be made known unto Yahweh (Phil 4:6).
The following three highlighted links, will explain why the titles of Lord, and Christ along with the false name of Jesus must never be used to address Yahweh.
We are to praise the name of the one that created the Heavens and the Earth, whose name is Yahweh.
The word Lord, which is a title, can only refer to men. The etymology or root word of the Greek word kyrios, (G2962) is from kuros which has a meaning of supremacy. The word kyrios, translated as Lord in English, is not derived from the original Hebrew name of Yahweh. This represents a criminal act, that much is for sure!
Names are to be transliterated, not translated, and the false name of Jesus, as well as the title Lord, are not transliterations of any Hebrew name.
It shall come to pass, at the end of this age, that those who call upon the name of Yahweh shall be delivered (Joel 2:32).
For whosoever shall call upon the name of Yahweh shall be saved (Rom 10:13).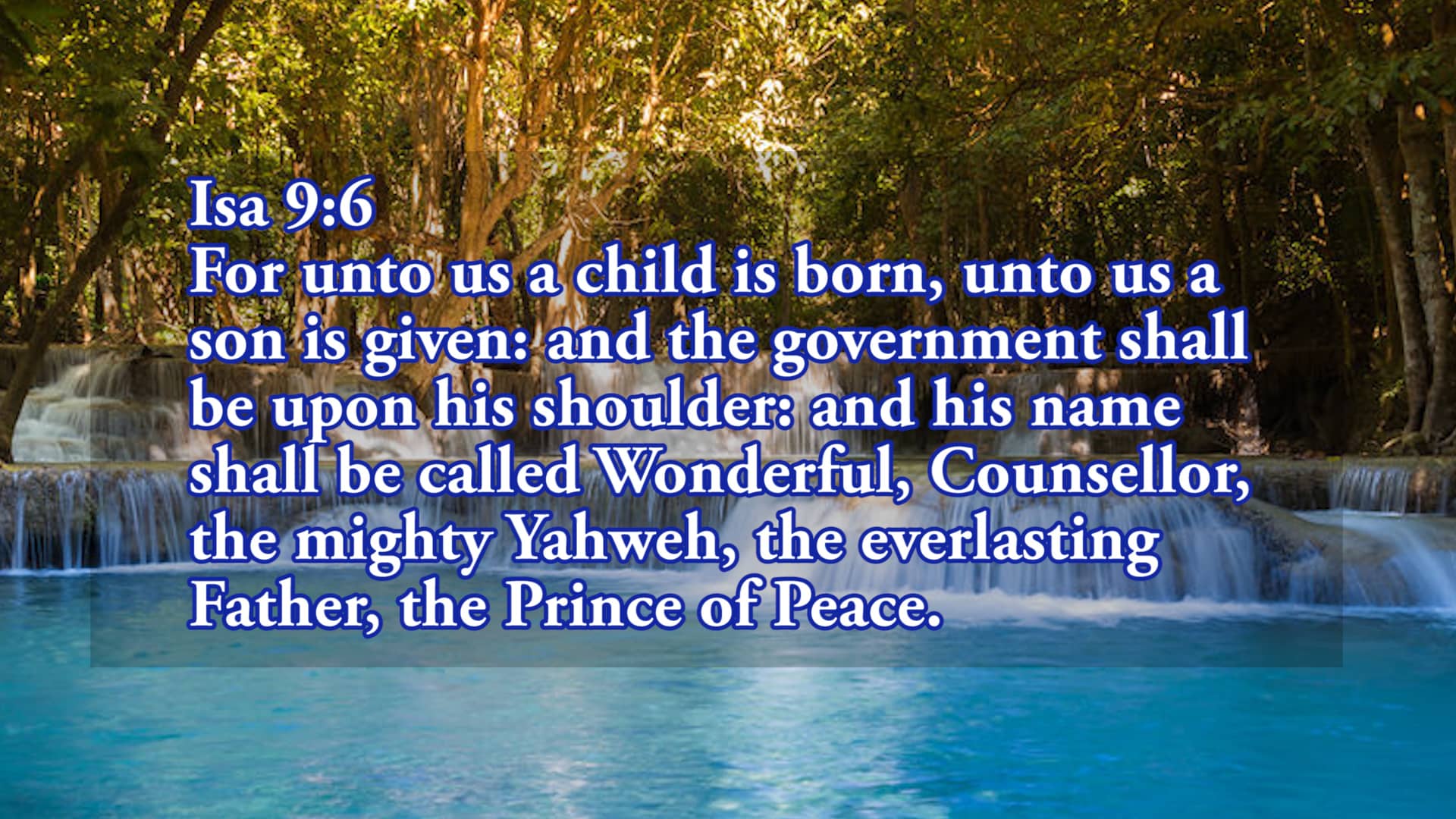 Is it not true that the Salvation of mankind is realized through the Messiah, who is the very image of Yahweh? Messiah our Savior is Yahweh.
Isa 42:8 I am Yahweh: that is my name: and my glory will I not give to another, neither my praise to graven images
How many within the church understand the significance of what is written in Mathew 6:9?
Mat 6:9 After this manner therefore pray ye: Our Father which art in heaven, Hallowed be thy name
Hallowed be thy name – His name is set apart and Holy
Father is a title, and Yahweh is His name

Our Father

which art in heaven, thy

name (Yahweh) is Holy
Our Savior used the title of Father to describe the character, or essence of who Yahweh is, and what He desires for His children.
The Father is our provider (Mat 6:8, 26).
He forgives His children (Mat 6:14).
We are protected by and through Him (Mat 10:29-31).
Our Father teaches us the truth (Mat 16:17)
And Yahweh, as a father figure loves us very much (Mat 18:14).
I can still remember the last time I attended a service at a Christian church, and the strange words that were uttered by the pastor of this assembly. He led a worship session in which he walked around and said Father we pray in Jesus name. And he then continued to repeat this name Jesus, over and over again. I found this display of ignorance to be very sad, and wondered how could their prayers be heard of Yahweh, when they called out to the Father (a title), in the name of Jesus (which is a fictitious name).
There are times of worship wherein I find myself verbalizing many of Yahweh's wonderful titles in order to remind myself of His glory and wonder, but vain repetitions do not demonstrate a personal relationship at all.
Below is an example of a prayer that incorporates praise to Yahweh, that allows hope to become reality, through the power of the indwelling of His Holy Spirit. As a result of this gift, the assurance of Salvation is indeed confirmed because of His promise that can never be broken.
It is a joy and a privilege to submit to and praise you, HalleluYah. I will continuously Praise your name Yahweh.
Your Love demonstrated to me through your sacrifice for my sins, represents a debt I could never repay, and I'm constantly in awe of you each and every day.
My Spirit rejoices in you my Yahweh my Savior and I have been blessed beyond measure, as you have transformed me by the renewing of my mind, heart, and soul – you are my strength and my shelter.
The assurance of Salvation I possess is established and certain because of your Spirit that dwells within me, and I thank-you for Sealing me unto the day of redemption.
You have enabled me to step out of darkness into your marvelous light, and your Spirit of truth is my most prized possession. It has freed me from the bondage of sin and deceit that leads to death.
Keep me, and strengthen me that I may endure the tribulations set forth before me, and faithfully serve you.
Amen
Are we to Pray to the Father in the name of Jesus
John 15:16 Ye have not chosen me, but I have chosen you, and ordained you, that ye should go and bring forth fruit, and that your fruit should remain, that whatsoever ye shall ask of the Father in my name, he may give it you
The four words, he may give it, actually refer to a single word. That word can be translated as give, bestow or deliver.
A more accurate translation of the last part of this paragraph is "whatsoever you shall ask the Father through my name it will be given to you."
The faulty interpretation of John 15:16 and many other verses suggest two separate persons, which is illogical and contradictory to the very Word of Yahweh spoken through Messiah the Savior.
Messiah said unto them, If Yahweh were your Father, ye would love me: for I proceeded forth and came from Yahweh; neither came I of myself, but of the same I am sent (John 8:42).
Messiah the Savior is Yahweh manifest in the flesh (1 Tim 3:16). He proceeded or came forth from Yahweh. If the Son came forth from Himself, as a separate person apart from the Father, this would justify the notion of two different God's.
Our Savior told Philip, he that has seen me has seen the Father. This is not in any way a reference to two eternally distinct persons.
To reveal or uncover the Word of truth is to bring forth the true intended message directly and correctly. We cannot allow the teachers of deception to obscure the identity of our Savior, nor remove His rightful place and position of power. The one who shed His blood for our sins, is the promised Messiah. In order for His claim of being the Savior to be true, He must also be Yahweh.
John 16:23 And in that day ye shall ask me nothing. Verily, verily, I say unto you, Whatsoever ye shall ask the Father in my name, he will give it you.
Again, we are not dealing with two separate persons here. The three words, he will give, actually refer to a single word. That word can be translated as give, bestow or deliver.
Ask the Father in the Savior's name (and it will be) given (to) you. Ask the Father in the name of Yahweh, which is His glorified name.
John 14:13 And whatsoever ye shall ask in my name, that will I do, that the Father may be glorified in the Son.
We must not follow these man-made doctrines that are illogical and deceitful. To be taught by the Spirit of Yahweh, is to realize that the Son came forth from the Father. He also came with the name of Yahweh (John 8:42, 13:3, 16:27-30, 17:8).
Luke 11:2 And he said unto them, When ye pray, say, Our Father which art in heaven, Hallowed be thy name. Thy kingdom come. Thy will be done, as in heaven, so in earth
Messiah the Savior will return to reign in His kingdom, and he will sit upon the throne of His glory (Matt 25:31-34).
The Father revealed in the Son
John 16:28 I came forth from the Father, and am come into the world: again, I leave the world, and go to the Father
Our Savior presented the metaphor of the Father to the disciples, however they found this concept confusing. They did not yet fully understand that He spoke of Yahweh. That same confusion exists today.
Philip asked The Savior to show him the Father. His reply to Philip was, if you have seen me you have also seen the Father (John 14:7-8).
John 14:10 Believest thou not that I am in the Father, and the Father in me? the words that I speak unto you I speak not of myself: but the Father that dwelleth in me, he doeth the works
The Father, or the Spirit of Yahweh that dwelt within Him, was the one who performed the mighty works that no man could ever do.
John 16:25 These things have I spoken unto you in proverbs: but the time cometh, when I shall no more speak unto you in proverbs, but I shall shew you plainly of the Father
Towards the end of His ministry, the disciples finally grasped the symbolism of the Father, when Messiah declared that He came forth from Yahweh (John 16:29-30).
Regarding the Holy Spirit, our Savior stated "I will not leave you comfortless, I will come to you" (John 14:18). That statement, is proof positive that the Holy Spirit is not another person of this so-called trinity.
John 15:26 But when the Comforter is come, whom I will send unto you from the Father, even the Spirit of truth, which proceedeth from the Father, the same shall testify of me
How does The Savior send The Holy Spirit from the Father? (See also John 14:16, 14:26).
John 16:7 Nevertheless I tell you the truth; It is expedient for you that I go away: for if I go not away, the Comforter will not come unto you; but if I depart, I will send the same unto you
Also, when ever the words (he, or him) are used in reference to the Holy Spirit, we must always replace those deceitful trinitarian words with the phrase (the same).
Even the Spirit of truth that the world cannot receive, because they do not discern, neither do they have knowledge of the same, but you have knowledge of the same for the same dwelleth in you, and shall be with you (John 14:17).
Act 2:17 And it shall come to pass in the last days, saith Yahweh, I will pour out of my Spirit upon all flesh: and your sons and your daughters shall prophesy, and your young men shall see visions, and your old men shall dream dreams
Romans 8:9 But ye are not in the flesh, but in the Spirit, if so be that the Spirit of Yahweh dwells in you. Now if any man have not the Spirit of Messiah he is not of him

John 1:33 And I knew him not: but he that sent me to baptize with water, the same said unto me, Upon whom thou shalt see the Spirit descending, and remaining on him, the same is he which baptizes with the Holy Spirit