Once you are saved you are always saved
Many believe that the teaching once you are saved you are always saved represents an occurrence in the present tense. To make a claim to being saved by works, whether it is through words or deeds is self-righteousness, and it is a false doctrine.
Once you are saved you are always saved, is, in fact, a true statement. Salvation occurs at the second advent of Yahshua the Messiah.
Mark 13:13 And ye shall be hated of all men for my name's sake: but he that shall endure unto the end, the same shall be saved.
Sadly most of Christianity has bought into a doctrine of deceit as a result of the false teachers in the church. The article entitled Obey them that have the rule over you, reveals in part why this occurs. The judgment begins when Yahshua returns and this is when the righteous shall be saved (Rom 2:5-8). This is also the time in which the wrath of God is poured out on the ungodly. The great deception within Christianity is obvious when an audience receives the doctrines of deception and is left feeling comfortable and at ease.
1 Peter 4:17-18 For the time is come that judgment must begin at the house of God: and if it first begin at us, what shall the end be of them that obey not the gospel of God? And if the righteous scarcely be saved, where shall the ungodly and the sinner appear?
The truth of Salvation in Christianity is clearly taught throughout scripture and yet the Word of God and the doctrines of men seem to be constantly at odds with each other (Rom 8:7-9).
The only way one can lose his or her Salvation is to not receive it. When Christ returns with our Salvation it will be evident who receives the Crown of life in under a minute.
1 Cor 15:52 In a moment, in the twinkling of an eye, at the last trump: for the trumpet shall sound, and the dead shall be raised incorruptible, and we shall be changed.
Yes, the whole process of the realization of Salvation will transpire in the blink of an eye; once you are saved you are always saved for eternity.
Acts 16:17 The same followed Paul and us, and cried, saying, These men are the servants of the most high God, which shew unto us the way of salvation.
When we are Saved Our Salvation can't be lost
Those who can rightly divide the Word of Truth will share the assurance of Salvation they possess with others.
Many people have been led astray by a cheap salvation message. Only those who do not have the assurance of Salvation will ask," Can I lose my Salvation"?
It is quite impossible to lose your Salvation, because of the fact that once you are saved you are always saved; it is really that simple.
Through the Holy Spirit, it is possible to have an assurance of Salvation that enables the Elect to endure until the end (Mat 10:22).
Romans 13:11 And that, knowing the time, that now it is high time to awake out of sleep: for now is our salvation nearer than when we (first) believed.
Our Salvation is a future tense occurrence. The reason why is that only upon Christ's return to earth can this redemptive process take place.
The Hope of our Salvation is both a tactical and a defensive weapon. A sure hope allows us to endure, but by the renewing of our minds, we can also conquer.
1 Thess 5:8 But let us, who are of the day, be sober, putting on the breastplate of faith and love; and for an helmet, the hope of salvation.
The vast majority today within Christianity, simply have no hope. How can you hope for something that you claim to already possess? When you truly understand that once you are saved you are always saved, you can then have the hope of one day obtaining eternal Salvation.
1 Pet 3:15 But sanctify the Lord God in your hearts: and be ready always to give an answer to every man that asketh you a reason of the hope that is in you with meekness and fear:
It is unlikely that one can rationally explain to others a sure hope that they do not themselves possess.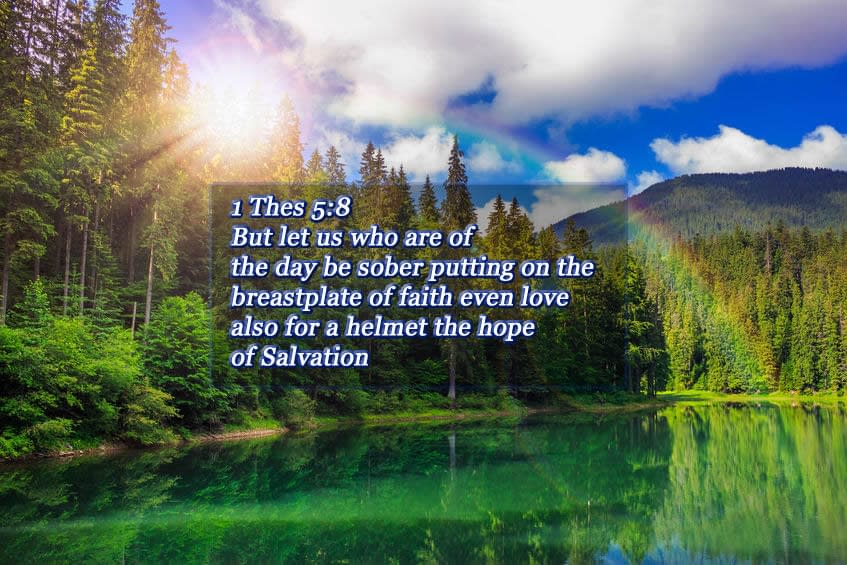 Salvation occurs at the last trump
 1 Cor 15:52 In a moment, in the twinkling of an eye, at the last trump: for the trumpet shall sound, and the dead shall be raised incorruptible, and we shall be changed
The teaching regarding real Salvation should never represent a present tense occurrence.
Rom 10:13 For whosoever shall call upon the name of the Lord shall be saved.
Far too many take this verse and use it inappropriately. Salvation is a lifelong process, and it involves much more than an acknowledgment of Yahshua our Savior. Only the ones who faithfully endure through many tribulations will be saved (Mat 10:22).
At the great white throne judgment, the dead are judged according to their works. If one is already saved, then how can they be judged?
Yahshua spoke to his disciples about Salvation that would occur in conjunction with entering into the kingdom of God (Math 19:24, 25, 29).
Acts 13:26 Men and brethren, children of the stock of Abraham, and whosoever among you feareth God, to you is the word of this salvation sent
The Messiah Yahshua, who is the Word of God, is also our Salvation. This mystery is revealed in the Old Testament scriptures to those who can rightly divide the Word of truth (2 Tim 2:15).
Once we uncover the conspiracy against Christ, His true identity (that has been concealed within the teachings of the doctrine of the trinity) is revealed. Also, the truth regarding when our reward of Salvation transpires becomes rather evident.
Isaiah 25:9 And it shall be said <H559> in that day <H3117>, Lo, this is our God <H430>; we have waited <H6960> for him, and he will save <H3467> us: this is the LORD <H3068>; we have waited <H6960> for him, we will be glad <H1523> and rejoice <H8055> in his salvation <H3444>.
And it shall be said in that day, God we have waited for our Salvation, Yahweh we have waited, we will be joyful and rejoice in Yahshua (Isaiah 25:9).
The true plan of Salvation has been replaced with a cheap counterfeit as a result of the commandments and doctrines of men (Mark 7:7).
Romans 1:16 For I am not ashamed of the gospel of Christ: for it is the power of God unto salvation…
That which is born of the flesh is of the flesh, and that which is born of the Spirit is of the Spirit.
Until you are born-again you can not have a true knowledge of Salvation. Becoming born-again and receiving the Baptism of the Holy Spirit are one in the same.
Unless a man is born of water and the Spirit, he can not enter into the Kingdom of God (John 3:3-8).
Too many believe that they are born-again, and yet they have never experienced the true indwelling of the Holy Spirit. It is only when Christ's Spirit lives within us, that we can truly hear and believe unto everlasting life (John 5:24, 14:17; 15:26; 16:13; Eph 1:13).
Eph 1:13 In whom ye also trusted, after that ye heard the word of truth, the gospel of your salvation: in whom also after that ye believed, ye were sealed with that holy Spirit of promise.
Christ purchased us through His shed blood and gives us the Holy Spirit as a down payment. The one who is sealed by Yahshua realizes that once you are saved you are always saved, represents the fulfillment of His contract with us (John 6:27, 2 Cor 1:22, Eph 1:13-14, 4:30). Our inheritance, redemption, and Salvation are received at His second coming.
Eph 1:14 Which is the earnest of our inheritance until the redemption of the purchased possession, unto the praise of his glory.
Yahshua said that unless you believe and are Baptized, you shall not be saved. He did not say that we are saved, but that we shall be saved. The teaching regarding Salvation takes on a completely different meaning if we listen to the words of our Savior.
Mark 16:16 He that believeth and is baptized (with the Holy Spirit) shall be saved; but he that believeth not shall be damned. Emphasis added
The baptism of John was unto repentance; however, the baptism of the Holy Spirit is unto Salvation.
Luke 3:16 John answered, saying unto them all, I indeed baptize you with water; but one mightier than I cometh, the latchet of whose shoes I am not worthy to unloose: he shall baptize you with the Holy Ghost and with fire
The end result of our faith in Christ is the Salvation of our souls (1 Peter 1:9).
We will be saved by the renewing of the Spirit; our old nature is made new when we put on the mind of Christ. We are not to conform to the world, but we are to be transformed by the renewing of our minds (1 Cor 2:16, 1 Peter 1:13, Rom 12:2).
Eze 11:19 And I will give them one heart, and I will put a new spirit within you; and I will take the stony heart out of their flesh, and will give them an heart of flesh
When you see the end time events start to unfold then look up for your redemption and Salvation is at hand (Luke 21:28).