Identification of a Christian Cult
When those claiming to be Christians, protect a belief system that is not based on the Word of God, this is an identification of a Christian Cult.
To adhere to the false teachers in the Christian church and their many fables is to be involved in a system of religious beliefs and rituals. This too is the identification of a Christian Cult (2 Tim 4:3-4).
There is no profit in this pretend game of playing church that so many succumb to. However, vast financial gains are easily obtained by professional conmen that are able to fleece an unsuspecting flock.
Great deception in Christianity is so very evident to those who have been blessed with the Spiritual ability to rightly discern the word of truth. Those who are Sealed with the Holy Spirit should be aware of the conspiracy against Christ. Our focus should be on the true Word of God and the doctrines of men that are contrary to the Gospel of Christ should be avoided.
Obey them that have the rule over you, represents one of the many distorted mainstream doctrines that many Christian leaders utilize for personal gain.
2 Tim 4:3-4 For the time will come when they will not endure sound doctrine; but after their own lusts shall they heap to themselves teachers, having itching ears; And they shall turn away their ears from the truth, and shall be turned unto fables
The name of Jesus is Yahshua, and the concealment of the true name of God, who was manifest in the flesh represents a criminal act. How can a realistic Spirit-filled relationship occur when the doctrine of the trinity obscures the many prophecies regarding Christ in the Old Testament.
John 5:43 I am come in my Father's name, and ye receive me not: if another shall come in his own name, him ye will receive.
This passage refers to Yahshua who carried His Father's name which is Yah. Yahshua is the image of the invisible God. Yahshua even Yahweh exist as one (Isaiah 9:6, John 10:30, 2 Cor 4;4).
Mark 11:9 And they that went before, and they that followed, cried, saying, Hosanna; Blessed is he that cometh in the name of the Lord:
Psalms 116:13 I will take <H5375> the cup <H3563> of salvation <H3444>, and call <H7121> upon the name <H8034> of the LORD <H3068>.
Accept the cup of Yahshua, praise the name of Yahweh (Psalms 116:13).
1 Cor 10:21 Ye cannot drink the cup of the Lord, and the cup of devils: ye cannot be partakers of the Lord's table, and of the table of devils.
We must each examine ourselves if we are to partake of the cup of our Messiah, lest we partake thereof in an unworthy fashion thereby drinking unto damnation (1 Cor 11:28-29, Mat 10:38)
Ex 15:2 The LORD <H3050> is my strength <H5797> and song <H2176>, and he is become my salvation <H3444>: he <H2088> is my God <H410>,
Yah is my strength, praise Yahshua he is my God (Exodus 15:2).
Yahweh is alive blessed be my rock, let Elohim my Yahshua be exalted (Psalms 18:46).
Many in the church as a result of false teachers, are generally unwilling or unable in most cases to think for themselves. They would rather listen to men that claim a God given right to have authority over them and the gospel. This is an identification of a Christian Cult.
Declaring that God wants to bless us with everything we desire to satisfy the desires of our flesh is the new gospel presented by the false teachers in the Church, and it is very popular. Preaching about taking up one's cross and suffering for Christ has been replaced with the Pre-tribulation Rapture Deception.
Tithing is an identification of a Christian Cult
There is not a lot to say on this particular topic.
Tithing was a Law of Moses, and Christians are not under this law.
Tithing was an Old Testament law, and Christians are under the New Law of Christ.
There is no command for the New Covenant Church to tithe.
If your preacher says that you are sinning and robbing God by not tithing, this is not only the identification of a Christian Cult leader but of a liar and a thief.
1 Tim 5:17 Let the elders that rule well be counted worthy of double honour, especially they who labour in the word and doctrine.
Most false teachers in the Church would say that the double honor mentioned here is monetary in nature and payable in part to them. However, the true laborer has the reward of living by the very words of the gospel that they preach.
When the church is involved with selling their truth, this is an identification of a Christian Cult. The reward that the false teachers in the Church seek after is a monetary one, and they have no problem whatsoever in twisting scriptures to facilitate this plunder.
The primary means of this plunder is to convince the unlearned that:
Tithing is commanded by God and is payable in part to them.
The Sabbath that is an old covenant law is taught to be applicable to new covenant believers.
Living according to the gospel is the honor and reward for the spirit-filled laborer of Christ.
The meaning of the word honor, that is used in double honor in first Timothy 5:17, in no way refers to money (1 Cor 12: 23; 1 Tim 1:17; 1 Peter 1:7).
Likewise, the reward that was spoken of in first Timothy 5:18, is not one of a monetary nature either. But the false teachers are business men, and money and fame are their desired goals.
Matt 10:7-8 And as ye go, preach, saying, The kingdom of heaven is at hand. Heal the sick, cleanse the lepers, raise the dead, cast out devils: freely ye have received, freely give.
We are not to turn the sharing of the gospel message into a business opportunity, and no one should profit from sharing Christ with others.
Titus 1:10-11 For there are many unruly and vain talkers and deceivers, specially they of the circumcision. Whose mouths must be stopped, who subvert whole houses, teaching things which they ought not, for filthy lucre's sake.
We are not to acknowledge Jewish fables, or the commandments of men, that turn many from the truth (Titus 1:14).
Romans 8:9 But ye are not in the flesh, but in the Spirit, if so be that the Spirit of God dwell in you. Now if any man have not the Spirit of Christ, he is none of his.
If Christ's Spirit does not dwell within you, then you are not of Him, and therefore you only know of Him.
Great deception within Christianity is accomplished at the hands of the false teachers in the Christian Church that only regard the things of the flesh. They are blind to the truth and purpose of this life because they are without the Spirit of Christ.
2 Peter 1:20-21 Knowing this first, that no prophecy of the scripture is of any private interpretation.  For the prophecy came not in old time by the will of man: but holy men of God spake as they were moved by the Holy Ghost.
The prophecies of the scripture are of no private interpretation. No denomination or individual has control over or final authority on the correct understanding of what is written in the Word of God. This task is reserved for the Holy Spirit that teaches us all things.
2 Tim 2:15-16 Study to shew thyself approved unto God, a workman that needeth not to be ashamed, rightly dividing the word of truth.
The Christian believer must rely on the Holy Spirit to uncover or reveal Christ's testimony, as His truth is spiritually discerned.
Far too many have a false sense of reality and eternal security as a result of the great deception within Christianity, revealed through the deceptive teachings of men that do not have the Spirit of Truth. Deceptive teachings that are accepted as truthful are an identification of a Christian Cult.
These can not discern whether the Bible is the true Word of God or not. They depend upon charlatans, who are only interested in worldly pursuits, who prevent their followers from growing in the Lord or having a true relationship with Him (Mat 23:5-15).
2 Cor 4:3-4 But if our gospel be hid, it is hid to them that are lost: In whom the god of this world hath blinded the minds of them which believe not, lest the light of the glorious gospel of Christ, who is the image of God, should shine unto them.
The false teachers in the Christian church deny the teachings of Yahshua by reason of their damnable heresies and bring upon themselves and their blind follower's swift destruction (2 Peter 2:1, John 16:7, Luke 6:39).
Although the Bible is the true Word of God, few truly press into the Word of God (Phl 3:8-14).
An identification of a Christian Cult & the Old Law
1 John 3:22 And whatsoever we ask, we receive of him, because we keep his commandments, and do those things that are pleasing in his sight.
Many claim to keep the Ten Commandments, which were part of the old law, but we are no longer under the old law. The false teachers in the Church need to keep people under the bondage of Old Testament, in part to keep the tithes coming in.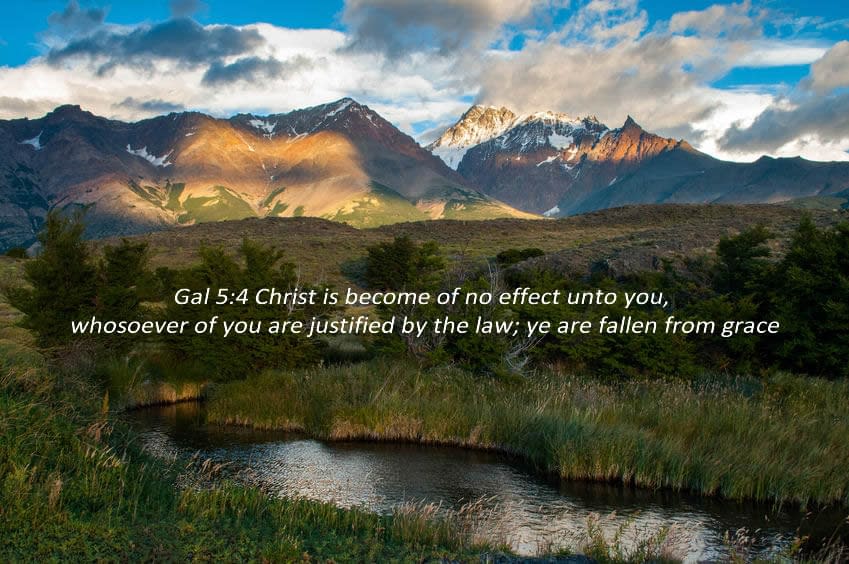 Rom 4:14 For if they which are of the law be heirs, faith is made void, and the promise made of none effect:
To claim to be justified by the old law is actually a separation from Christ, as you are fallen from grace and not led by the spirit of truth (Gal 5:4; Gal 5:18). You will never hear this truth presented by the false teachers in the Church.
Gal 5:4 Christ is become of no effect unto you, whosoever of you are justified by the law; ye are fallen from grace.

Luke 24:44 And he said unto them, These are the words which I spake unto you, while I was yet with you, that all things must be fulfilled, which were written in the law of Moses, and in the prophets, and in the psalms, concerning me.
The Law and the Prophets were until Jesus, who fulfilled all things spoken of Him.
To claim that you are under the Old Testament Law when a new law is in effect is nonsensical.
Gal 2:21 I do not frustrate the grace of God: for if righteousness come by the law, then Christ is dead in vain.
Righteousness comes through Christ's victory over sin at the cross, to make the claim of righteousness through the Old Testament Law is sin and deceit.
Many false teachers in the Church proclaim that we are still under the Old Testament law; this is a primary identification of a Christian Cult.
Salvation deception an identification of a Christian Cult
The Christian Salvation deception is a destructive and deadly doctrine preached to and believed on by the majority within the religion of Christianity.
The Hope of our Assurance of Salvation is actually both a tactical and a defensive weapon that we use to endure and conquer. One of the problems with Christianity today is that most have no hope. In fact, few even understand the meaning of the word. How can you hope for something you already claim to possess?
1 Thess 5:8 But let us, who are of the day, be sober, putting on the breastplate of faith and love; and for an helmet, the hope of salvation.
It is impossible to be saved until Christ returns with our Salvation, it is also impossible to be saved without the Baptism of the Holy Spirit. This deadly false teaching is also a primary identification of a Christian Cult.
The infilling of the believer with the Spirit of God is the down payment (or earnest) that Christ gives to His chosen, that He has purchased with His blood upon the cross.
2 Cor 1:22 Who hath also sealed us, and given the earnest of the Spirit in our hearts.
The completion of His contract with us is to be fully realized and received at His second coming. This is when the Christian Assurance of Salvation is revealed and implemented.
Luke 21:27-28 And then shall they see the Son of man coming in a cloud with power and great glory. And when these things begin to come to pass, then look up, and lift up your heads; for your redemption draweth nigh.
Yahshua taught His followers that unless you believe and are baptized you shall not be saved. He did not say you are saved, but you shall be saved.
He that believes and is baptized with the Holy Spirit shall be saved, but he that believes not shall be damned (Mark 16:16, Gal 3:27, Math 24:13).
John the Baptist proclaimed that there are two Baptisms; one is unto repentance, and the other is unto the Assurance of Salvation through the Holy Spirit.
All who truly have a Spiritual relationship with Yahshua have the Assurance of Salvation if they have the Baptism of the Holy Spirit. Without the Spirit, it is impossible to even understand the Word of God. This is why there is so much division in the so-called Christian church today.
1 Peter 1:7-9 That the trial of your faith, being much more precious than of gold that perisheth, though it be tried with fire, might be found unto praise and honour and glory at the appearing of Yahshua the Messiah:  Whom having not seen, ye love; in whom, though now ye see him not, yet believing, ye rejoice with joy unspeakable and full of glory:  Receiving the end of your faith, even the salvation of your souls.
False teachers | identification of a Christian Cult
Deceptive teachers convince their followers that the position of authority they hold is God ordained.
Suggestive words and emotional conditioning through lighting, soft music and or a teary-eyed plea, are some of the tactics employed to manipulate people to respond in a certain manner.
There are many other manipulative techniques used by false teachers in the Christian Church. A primary identification of a Christian Cult is realized through the use of manipulation to gain control of its members.
1-An identification of a Christian Cult leader is one who presents his own truths that are not spiritually discerned; this is also known as propaganda.
2- Another identification of a Christian Cult leader is one who uses a guilt trip as a favorite tactic. The manipulator suggests to the audience, that already is in a state of agreeableness that they are selfish, or do not care. The result is usually one where the person feels bad or unworthy, leading to self-doubt. Ultimately the victim will wind up in a position of submission to the leader, thus allowing this control to continue.
3- Note that the submission is now towards a man, employing these tactics for power and financial control.
4- Subtle but effective shaming or put-downs are also an identification of a Christian Cult leader. This tactic is utilized to intensify the fear of one's actions as not being acceptable.  This technique is widely used especially when the leader is questioned regarding his authority and doctrines, or when money is required. At this point, the subject can be led to accept control by other means.
5- Seduction is an identification of a Christian Cult leader, and it is one of his favorite tools.  He will use his voice, confidence, and image to grab the attention of a crowd and keep it.  After this charm has taken hold of an individual or group, flattery can be put into practice to lower their defenses. This will usually allow the manipulator to gain trust and possibly even loyalty, which is the goal.
6- The victim mentality method is yet another identification of a Christian Cult leader. He will make claims that the ministry is in trouble, and without immediate financial contributions, many will suffer. People do not like to see or hear of sufferings, and if they are made to feel responsible, it is usually fairly easy to get them to cooperate.
7- The ultimate and end game of this manipulation, is one in which the false teachers in the Christian Church are seen as having the role of being God's ordained teachers, or prophets. Once they have obtained this cult-like status, many of their converts no longer even think for themselves.
With all the tactics above employed it is easy to masquerade using a disguising pretense, and thus cloak or hide a self-serving agenda, under the pretext of operating as the servant or spokesperson of God.
Christian leaders and preachers should be the most humble of men. If they are truly called to be servants that are led by the Spirit they must direct all praise and adoration towards God. Likewise, those being taught need to have their eyes and hearts focused on the Spirit of Christ that gives us the understanding.