Salvation in Christianity represents the hope of eternal life realized. This occurs at the second advent of Yahshua the Messiah when the Elect shall put on immortality and incorruption (Rom 2:7, 1 Cor 15:53).
Many false teachers in various Christian churches are guilty of out of context preaching. This may be the result of a flawed education at a seminary or premeditated deception by an individual or a group. Whatever the case may be, the end result is a faulty doctrinal interpretation that does not represent the actual word of God.
Fables can come to pass even when a single mistranslated Bible verse is used to present an explanation regarding a particular viewpoint or belief. Unfortunately, this transpires in many Christian denominations, and this is also the reason for the disunity within. The end result is convoluted theologies full of irreconcilable contradictions.
1 Cor 2:14 But the natural man receiveth not the things of the Spirit of God: for they are foolishness unto him: neither can he know them, because they are spiritually discerned
To make a claim of being saved in the present tense is an act of self-righteousness; it is also a doctrine of deceit. The judgment begins when Yahshua returns and this is when the righteous shall be saved.
1 Peter 4:17-18 For the time is come that judgment must begin at the house of God: and if it first begin at us, what shall the end be of them that obey not the gospel of God? And if the righteous scarcely be saved, where shall the ungodly and the sinner appear?
The truth of Salvation in Christianity is clearly taught throughout scripture and yet the Word of God and the doctrines of men seem to be constantly at odds with each other (Rom 8:7-9).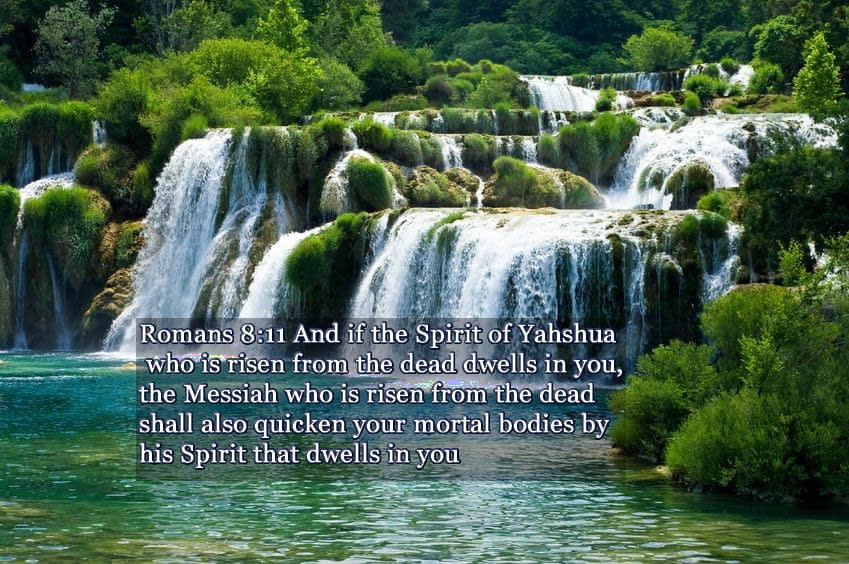 Utilizing scriptural integrity and spiritual understanding, the correlation between our regeneration and salvation become rather evident (Tit 3:5, Math 19:24-28).
Titus 3:5 Not by works of righteousness which we have done, but according to his mercy he saved us, by the washing of regeneration, even the renewing by the Holy Spirit
As it is written this verse makes little sense. Firstly this verse is translated incorrectly. Secondly, the placement of the comma after the word us, separates the flow of this sentence.
Instead of using the word saved, the future tense version of this word should be used.
He saves us (or will save us) by the washing of regeneration, even renewing by the Holy Spirit.
Also, if one does a Strongs study of this verse it becomes obvious that the word he is added. And the word us, is also translated as we.
A more likely translation is: "but according to his mercy we are saved by the washing of regeneration, even the renewing by the Holy Spirit."
Mathew chapter nineteen is the only other place we find this word regeneration (G 3824) used as it relates to becoming saved.
In the regeneration, our Salvation or deliverance is realized and eternal life is the reward. Our corruptible natures will be made incorruptible, and our mortal bodies will be clothed with immortality (Mat 19:28, 24:13, Titus 3:5, Rom 12:2, 1 Cor 15:50-54).
Yahshua said to his disciples, truly I say unto you, a rich man shall hardly enter into the kingdom of heaven (Matt 19:24).
Math 19:25 When his disciples heard it, they were exceedingly amazed, saying, who then can be saved?
Yahshua said unto them, truly I say unto you, that ye which have followed me, in the regeneration when the Son of man shall sit in the throne of his glory, ye also shall sit upon twelve thrones, judging the twelve tribes of Israel (Matt 19:28).
The true disciples of Yahshua do indeed understand that to inherit the kingdom of heaven is to receive the Salvation of one's soul.
1 Peter 1:9 Receiving the end of your faith, even the salvation of your souls.
The crown of righteousness is the reward given to the Elect at Yahshua's second coming. This is when Salvation in Christianity takes place.
2 Tim 4:8  Henceforth there is laid up for me a crown of righteousness, which the Lord, the righteous judge, shall give me at that day: and not to me only, but unto all them also that love his appearing.
The apostle Paul will receive the crown of righteousness at the same time as all those that love their Messiah's appearing do. This occurs after the time of the 3 ½ year great tribulation.
The pre-tribulation rapture preachers teach that Christians are rewarded with eternal life before the tribulation. However, Paul is not crowned until the end of this tribulation event. Also according to this rapture hoax, these Christians escape the end times judgment as well (2 Tim 4:1).
Yahshua declared, one shall be taken and the other shall be left behind. True Christians are left behind, to inherit the Kingdom on earth at His Second Coming.
Salvation in Christianity the promise of a future reward
We shall be saved if we have been baptized by the Holy Spirit (Mark 16:16, Luke 3:16, John 3:5).
For in this present body we do groan, being burdened. Not for that we would be unclothed, but that we would be clothed so that our mortality might be consumed and replaced with eternal life (2 Cor 5:4).
Gal 3:29 And if ye be Christ's, then are ye Abraham's seed, and heirs according to the promise.
Those who belong to Yahshua the Messiah are heirs to the kingdom (James 2:5). And it is obvious that the children of God (the rightful heirs) have yet to receive their inheritance. So then, Salvation in Christianity can't be lost because we have not yet been saved (Rom 8:17-23). Simply put an heir can't enjoy their inheritance until they receive it.
Titus 3:7 That being justified by his grace, we should be made heirs according to the hope of eternal life
The assurance of Salvation in Christianity is only possible through the promised Messiah. The law of the Spirit of life in Yahshua the Messiah has provided freedom from the law of sin and death (Rom 8:2-3).
Isaiah 25:9-10 And it shall be said in that day, Lo, this is our God; we have waited for him, and he will save us: this is the LORD; we have waited for him, we will be glad and rejoice in his salvation. 
There are hundreds of Bible verses that have been substantially altered; Tit 3:6, Isaiah 25:9 and John 17:3 are prime examples of these mistranslations. This conspiracy against Christ is but a futile attempt to conceal His identity as the everlasting Father who is also the Almighty God (Isa 9:6).
Titus 3:6 Which he shed on us abundantly through Yahshua the Messiah our Saviour
In this deceitful interpretation the word he is added to justify the false teaching of the trinity. However, when we read and understand the context of Titus chapter three, a wonderful promise is revealed.
The love of our God and Savior Yahshua the Messiah is such that he pours out his Holy Spirit upon those who become heirs. These also have the hope of eternal life (Titus 3:4-7).
And this is life eternal, that they might know thee the only true God even Yahshua the Messiah, who is sent forth (John 17:3).
And it shall be said in that day, God we have waited for our Salvation, Yahweh we have waited, we will be joyful and rejoice in Yahshua (Isaiah 25:9).
The Word of God is spiritually discerned and understanding the statement "I and the Father are one" allows us to also comprehend Isaiah 25:9, John 17:3 and Luke 2:11.
Yahshua is Yahweh manifest in the flesh, the one and only Savior of the world, who is the image of the invisible God (Col 1:13-17, John 15:22-24, 1 Tim 3:16).
Luke 2:11 For unto you is born this day in the city of David (the) Savior, which is Christ the Lord.
Yahshua declared "I am come in my Father's name" and "I proceeded forth and came from God" (John 5:43, 8:42, 10:30).
God's plan of Salvation in Christianity has been replaced with a cheap counterfeit that represents the commandments and doctrines of men (Mark 7:7).
2 Tim 4:3-4 For the time will come when they will not endure sound doctrine; but after their own lusts shall they heap to themselves teachers, having itching ears; and they shall turn away their ears from the truth, and shall be turned unto fables.
Those who claim that they have already been saved are involved in a spiritual criminal act if they also profess to be born again. The multitudes who believe albeit falsely that they have already received their Salvation are neither saved nor born again. The details related to this crime can be found HERE.
Romans 10:3 For they being ignorant of God's righteousness, and going about to establish their own righteousness, have not submitted themselves unto the righteousness of God
We must not allow deceptive teachings to present us with false hopes. If we take up our cross, faithfully follow Christ and endure until the end we can be saved. Our hope of Salvation allows us to endure all things for and through Christ (Matt 16:24, 24:13-22).
God's plan of Salvation in Christianity
Salvation is impossible to obtain until the second advent of Christ, it is also impossible to be saved without the Baptism of the Holy Spirit.
Salvation in Christianity is not achieved by simply reciting Bible verses, nor does it come automatically once a confession of faith is made. Our assurance of Salvation is realized through the Holy Spirit that brings to life the Word of God, enlightening and transforming our minds to receive the revelation of Yahshua's truth.
Through the Baptism of the Holy Spirit, a believer's hope is converted into the assurance of Salvation in Christianity.
John 3:5-6 Yahshua answered, Verily, verily, I say unto thee, Except a man be born of water and of the Spirit, he cannot enter into the kingdom of God. That which is born of the flesh is flesh; and that which is born of the Spirit is spirit
Christians who are truly born again, do not boast of their own works. Their joy is the result of the workings of Yahshua through them by means of His Holy Spirit (2 Tim 1:9, Titus 1:16, 2:14, 3:5, James 2:14-17).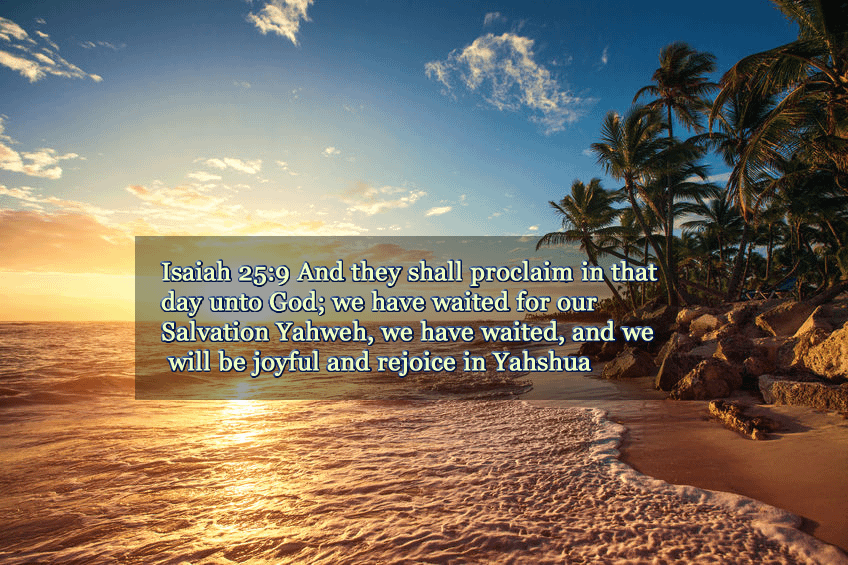 The true knowledge of the Kingdom of God and thus the assurance of Salvation in Christianity will occur when we are Sealed with the Holy Spirit of promise. This is what transpires when we are born again (John 3:3-8).
2 Cor 1:22 Who hath also sealed us, and given the earnest of the Spirit in our hearts
Many, who claim to be born again, have never really experienced the baptism of the Holy Spirit. Their pastors convince them that they are saved and automatically born-again or spirit-filled, and yet they produce no spiritual evidence to confirm this so-called transformation (John 14:17, 15:26, 16:13, Eph 1:13).
The Holy Spirit is a gift from Yahshua and it is the down payment (or earnest) given to those who have been cleansed by His shed blood at Calvary.
Eph 1:14 Which is the earnest of our inheritance until the redemption of the purchased possession, unto the praise of his glory
The completion of Yahshua's contract with us is to be fully realized at His second coming. This is when Salvation in Christianity is received.