There is a promise that would carry forward from the first Covenant, as foretold in the Law and the Prophets. That glorious promise is Yahshua (our Savior), He is The Messiah, being the very image of Yahweh.
All of the Commandment's, laws, and ordinances contained within the Old Covenant, were dissolved with the sacrifice of the Lamb of Yahweh. The hope of all mankind was revealed with the arrival of Yahshua (The Savior). Our Redemption is through, "The Promised One" who fulfilled that which was written about Him in the Old Testament scriptures.
Apart from faith in our Savior, the Messiah, it is impossible to be declared righteous. None could ever be justified by the works of the Law given through Moses.
With the first advent of The Savior, came the redemption from the curse of the Law (Acts 13:39, Rom 3:20-28, Gal 2:16, 3;13).
Luke 18:31 Then he took unto him the twelve, and said unto them, Behold, we go up to Jerusalem, and all things that are written by the prophets concerning the Son of man shall be accomplished
Isa 24:23 Then the moon shall be confounded, and the sun ashamed, when Yahweh of hosts shall reign in mount Zion, and in Jerusalem, and before his ancients gloriously
Yahweh of hosts in many verses refers to Yahweh's wrath (Isa 9:19, 10:23, 33, 13:13). Also compare Isa 44:6 with Rev 1:7-8.
Mark 13:24-27 But in those days, after that tribulation, the sun shall be darkened, and the moon shall not give her light, And the stars of heaven shall fall, and the powers that are in heaven shall be shaken. And then shall they see the Son of man coming in the clouds with great power and glory. And then shall he send his angels, and shall gather together his elect from the four winds, from the uttermost part of the earth to the uttermost part of heaven.
Upon His birth, He was called The Savior. Soon thereafter, He was received as Messiah, by many. And although He was given many glorious titles, He is Yahweh the Deliverer, to those who are the True Israel, that will be gathered together after the Great Tribulations (Dan 12:1-3).
Acts 2:20-21 The sun shall be turned into darkness, and the moon into blood, before that great and notable day of Yahweh come. And it shall come to pass, that whosoever shall call on the name of Yahweh shall be saved.

Joel 2:32 And it shall come to pass, that whosoever shall call on the name of Yahweh shall be delivered (or Saved)
According to Yahweh Himself, He Alone is The Savior (Isa 25:9). Therefore it is logical and biblical to affirm, that the Son that came forth from the Father is Himself Yahweh, or else He could not be the Savior.
Isaiah 45:21 Tell ye, and bring them near; yea, let them take counsel together: who hath declared this from ancient time? who hath told it from that time? have not I Yahweh? and there is no God else beside me; the righteous Yahweh thy Savior; there is none beside me.
 Prophesies Unto Yahshua (The Savior)
Mat 21:9 And the multitudes that went before, and that followed, cried, saying, Hosanna to the Son of David: Blessed is he that comes with the (name G3686) Yahweh; Hosanna in the highest.

To come with a name (Yahweh), is entirely different than being called a "name-title" based upon one's authority; consider (John 12:13, Luke 13:35, 19:38, Mark 11:9-10, Mat 21:9, 23:39).
 Luke 2:21 And when eight days were accomplished for the circumcising of the child, his (name G3686) (was called G2564) JESUS, which was so (called G2564) of the angel before he was conceived in the womb.
The standard translation for (G3686) is the word, name. However, other translations refer to one's rank, authority, command, or excellence! It has been clearly shown, that Our Savior's name is not Jesus. Likewise, it is obvious that Immanuel is not His actual name, but a title, like unto The Son of the Highest.
The translation of (G2564), to be used in the following three verses is – to be called, or to bear a title, that is proclaimed by others.
Mat 1:23 Behold, a virgin shall be with child, and shall bring forth a son, and (they shall call G2564) his

name (G3686)

Immanuel, which being interpreted is, Yahweh with us
Luke 1:32 He shall be great, and (shall be called G2564) the Son of the Highest
Mat 1:21 And she shall bring forth a son, and (thou shalt call G2564) his name _ _ _ _ _ _  for he shall save his people from their sins
The transliteration of H 3444, יְשׁוּעָה is Yeshuwah which according to Strong's, is pronounced (yesh-u-a). Yahshua may not be the correct spelling, but as far as the pronunciation is concerned, it sounds very much the same. We can be absolutely sure that Messiah's actual name was not Jesus. We also know He is the promised Savior, which is the meaning of H3444.
The more likely translation of Mathew 1:21 (not necessarily word for word), is; And she shall bring forth a son, and thou shall proclaim and call Him Yahshua, for he shall save his people from their sins.
Yahshua means Savior, and that is who our Messiah is. He shall be called the Savior, for he shall save his people from their sins.
The translation of (G1941), in the following three verses, is to call upon, or to appeal unto Yahweh directly.
Act 7:59 And they stoned Stephen, as he was (calling upon G1941) Yahweh… Emphasis added
 Act 22:16 And now why tarriest thou? arise, and be baptized, and wash away thy sins, (calling on G1941) the name Yahweh.
 Rom 10:13 For whosoever (shall call upon G1941) the name Yahweh shall be saved.
The translation of (H7121), to be called, to call out loud, or to call oneself
Isaiah 9:6 For unto us a child is born (and his name H8034) (shall be called H7121) The mighty Yahweh, The everlasting Father
Isa 12:4 And in that day shall ye say, Praise Yahweh, (call H7121) (upon his name H8034).

Isa 48:12 Hearken unto me, O Jacob and Israel, (and cry out H7121) I am the first, also, I am the last.

Jer 15:16 Thy words were found, and I did eat them; and thy word was unto me the joy and rejoicing of mine heart: (for I will call H7121) thy name Yahweh

Jer 33:16 In that day shall Judah be saved, and Jerusalem shall dwell safely: (therefore cry out for, or proclaim H7121), Yahweh's righteousness.
The Law and the Prophets fulfilled by the Messiah
The Law and the Prophets were until Yahshua (The Savior), and the prophet John the Baptist announced the arrival of the Messiah, who is the promised One of the Old Covenant.
John declared, "Behold the Lamb of Yahweh, who takes  away the sin of the world" (John 1:29).
Luke 16:16 The law and the prophets were until John: since that time the kingdom of Yahweh is preached, and every man presseth into it.
The New Covenant Law was based upon Love (Mat 5:43-48, Mark 12:30-33).
The promised Redeemer would make the first covenant obsolete, in that being old, it would vanish away (Jer 31:33, Heb 8:13, Titus 2:14).
Luke 24:44 And he said unto them, These are the words which I spake unto you, while I was yet with you, that all things must be fulfilled, which were written in the law of Moses, and in the prophets, and in the psalms, concerning me.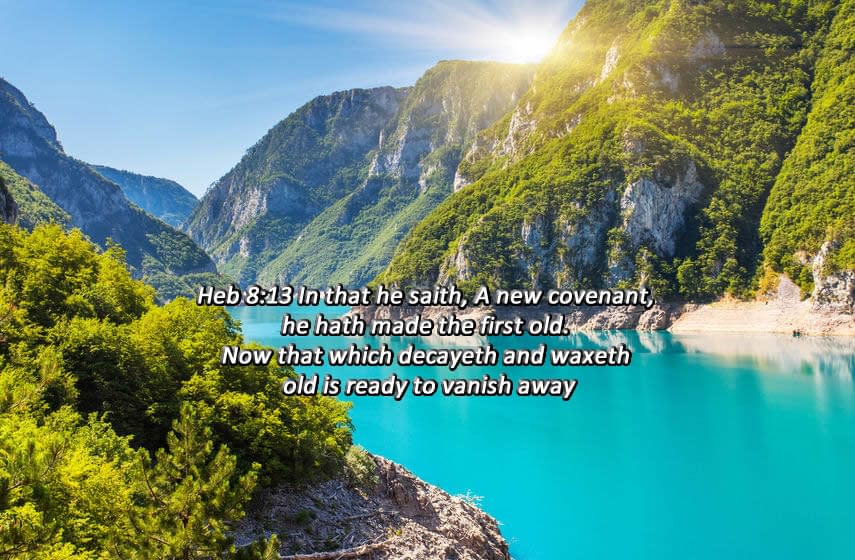 Luke 8:17-18 For nothing is secret, that shall not be made manifest; neither any thing hid, that shall not be known and come abroad.  Take heed therefore how ye hear: for whosoever hath, to him shall be given; and whosoever hath not, from him shall be taken even that which he seemeth to have.
Sadly, many who base their understanding and faith in the doctrines of men will have their false sense of security stripped away. Faith and hope, that is based on self-righteousness and deceit, is an unprofitable belief system that leads unto damnation.
Matt 13:41 The Son of man shall send forth his angels, and they shall gather out of his kingdom all things that offend, and them which do iniquity.
Blessed are those who are persecuted for the Gospel of Messiah, for they will inherit the kingdom of heaven (Matt 5:10). This is not a popular verse for those that subscribe to the teaching of the masters of deception regarding the pre tribulation rapture.
Matt 18:3 And said, Verily I say unto you, Except ye be converted, and become as little children, ye shall not enter into the kingdom of heaven.
As little children, we depend on our Father. Yahshua (the Savior) declared that He and the Father were one. The Law and the Prophets were until Yahshua (the Savior). His truth alone, leads us unto eternal life (John 3:15).
Matt 24:14 And this gospel of the kingdom shall be preached in all the world for a witness unto all nations; and then shall the end come.
Those that truly hear and then follow Yahweh, through his Holy Spirit that teaches us all things, have an enduring relationship that can not be easily severed (John 10:30, John 14:6, John 10:27, John 14:26).
Mark 4:11-12 And he said unto them, Unto you it is given to know the mystery of the kingdom of Yahweh: but unto them that are without, all these things are done in parables: That seeing they may see, and not perceive; and hearing they may hear, and not understand; lest at any time they should be converted, and their sins should be forgiven them.
Those who are without the Holy Spirit cannot fully receive or understand, the Word of Yahweh, because what He teaches is spiritually discerned (1 Cor 2:14).
1 Cor 2:13 Which things also we speak, not in the words which man's wisdom teacheth, but which (His) Holy Spirit teaches; comparing spiritual things with spiritual. (Emphasis added)
He that despises Messiah, also rejects Yahweh. Our righteousness can only to obtained through The Savior, not the works of the Old Law that has since vanished (1 Thes 4:8, John 16:7, Gal 2:21).
 Acts 13:39 And by him all that believe are justified from all things, from which ye could not be justified by the law of Moses.