An Essential Teaching of Christ
An essential teaching of Christ is that we must be born again (John 3:7). The Baptism of the Holy Spirit is of the utmost importance, for without the true indwelling of Yahshua within us, Salvation is quite impossible.
John 3:5 Yahshua answered, Verily, verily, I say unto thee, Except a man be born of water and of the Spirit, he cannot enter into the kingdom of God.
Unless a man is born of water and the Spirit, he can not enter into the Kingdom of God. Those who are born of the Spirit are Sealed unto the day of their Redemption (Eph 4:30, John 3:3-8).
Peter spoke of water baptism, unto those who had already received the Holy Ghost. Water baptism does not Save mankind (Acts 10:47).
Yet another essential teaching of Christ is to understand that there are two Baptisms. Water Baptism is unto repentance, and the Baptism of the Holy Spirit is unto the assurance of Salvation through Yahshua the Messiah (Luke 7:29, Acts 19:4).
Luke 3:16 John answered, saying unto them all, I indeed baptize you with water; but one mightier than I cometh, the latchet of whose shoes I am not worthy to unloose: he shall baptize you with the Holy Ghost and with fire:
Salvation is quite impossible to obtain before Yahshua returns to reward the faithful with redemption from the sinful flesh (Luke 21:28).
Gal 5:5 For we through the Spirit wait for the hope of righteousness by faith.
At Christ's appearing the Elect receive the crown of righteousness (2 Tim 4:8).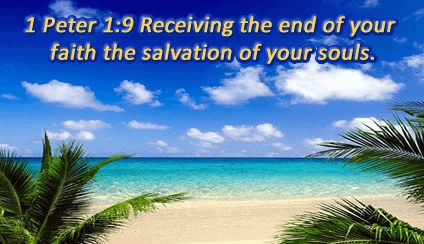 Understanding the assurance of Salvation is an essential teaching of Christ not understood by many. Those who claim that they are already Saved, are mistaken and deceived by self-righteousness.
Isaiah 25:9 And it shall be said in that day, Lo, this is our God; we have waited for him, and he will save us: this is the Lord; we have waited for him, we will be glad and rejoice in Yahshua.
When the Spirit of truth comes upon us, we can then understand the teaching of Yahshua regarding Salvation that gives us a sure hope, enabling us to endure until the end (John 16:13).
Heb 9:28 So Christ was once offered to bear the sins of many; and unto them that look for him shall he appear the second time without sin unto salvation.
At Christ's second coming the hope of our Salvation is fully realized.
It is Essential to Believe in the name of Yahshua
 John 1:11 He came unto his own, and his own received him not.
The tares cannot receive the Spirit of truth because they do not know Yahshua. But his Spirit dwells within those who are truly born-again (Mat 13:38, John 4:23-24, 14:17).
John 1:12 But as many as received him, to them gave he power to become the sons of God, even to them that believe on his name.
Those who are truly led by the Spirit of Yahshua are the sons of God (Rom 8:14, 1 John 3:1).
The Elect are the temple of God, but the Spirit of God will not dwell in a temple that is unfit for his presence (1 Cor 6:19; 1 Cor 3:16; 2 Cor 6:16).
Eph 1:13 In whom ye also trusted, after that ye heard the word of truth, the gospel of your salvation: in whom also after that ye believed, ye were sealed with that holy Spirit of promise.
The Holy Spirit is a down payment given to the faithful, who trust in Yahshua and have submitted to his plan for their lives.
Eph 1:14 Which is the earnest of our inheritance until the redemption of the purchased possession, unto the praise of his glory.
The fulfillment of this contract is our redemption and inheritance, which is the fulfillment of Yahshua's contract with his Elect, given at His second coming (Isa 40:10, Isa 62:11).
1 Peter 1:8-9 Whom having not seen, ye love; in whom, though now ye see him not, yet believing, ye rejoice with joy unspeakable and full of glory:  Receiving the end of your faith, even the salvation of your souls.
It is a great tragedy to make the claim of being born-again, without any evidence that this transformational process has occurred (Rom 12:1-2).
There are many reasons why few will ever truly experience the indwelling of the Holy Spirit. The distractions of this world, the deceitfulness of riches, and other worldly lusts make the Word of God of no effect (Matt 13:22, Mark 4:19, Math 15:6-9).
 1 John 2:15 Love not the world, neither the things that are in the world. If any man love the world, the love of the Father is not in him.
Yahshua is the very image of Yahweh (Isa 9:6).
John 14:7 If ye had known me, ye should have known my Father also: and from henceforth ye know him, and have seen him.
The ability to truly understand Yahshua who is the One True God, is impossible without His Spirit (John 14:17; 15:26; 16:13; Eph 1:13).